Physical Therapy at Anniston Chiropractic for Jacksonville, Talladega, Helflin, Anniston, Lincoln and Anniston, AL

At Anniston Chiropractic, our team aims to provide you with comprehensive care and rehabilitation to increase your overall wellbeing and to get you back to loving life. Many of our injured patients benefit from physical therapy. When you visit our offices in Anniston, AL, we'll talk to you about your pain and other symptoms, then we will create a customized treatment plan to address your limitations and help you to see the improvement you desire.

How Can Combining Chiropractic with Specialized Physical Therapy Help You Recover and Change Your Future?
Anniston Chiropractic is an integrated practice that successfully mixes chiropractic methods with specialized Pneumex protocol in the physical therapy department to better assist our clients with their painful back and sciatic conditions. When you visit our integrated practice in Anniston, our first step will be to understand your current symptoms and provide you with a customized treatment plan for quick relief, re-alignment and rehabi. Physical therapy from our team can help to restore your body's proper function and alignment, allowing you to accomplish the tasks you need to without pain. And, for those suffering from pain or a lack of mobility, physical therapy can change their lives and improve their quality of life.
Physical Rehabilitation Starts with a Customized Plan for You
When you turn to a chiropractic center like Anniston Chiropractic for physical rehabilitation, we'll begin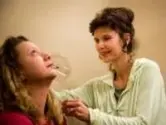 to create a customized treatment plan for you based on your spine. Our goal is to first ensure your spinal column is properly aligned so your central nervous system (your nerves and brain) is communicating properly with the muscles, joints, ligaments, and tendons throughout the body. Chiropractic adjustments can help to reduce any pinched nerve or any damaged nerve. They allow your body's spinal column to begin to work in the proper manner again, restoring function and reducing pain.
Corrective Exercises for Physical Therapy near Anniston
One of the ways we provide comprehensive care and physical therapy near Anniston is to create customized, corrective exercises for each individual. Corrective exercises help to retrain the way you move your legs, arms, or other joints to ensure proper movement. By moving your body in the proper method, you reduce the strain on your joints and spinal column. Our team will look for even small changes that can make a big difference in your overall wellbeing.
How Our Integrated Practice in Anniston Aids in Rehabilitation
When you work closely with Dr. David Wade, Physical Therapist Andrea Hartwell and our team, you'll get exceptional care and attention to your needs. For rehabilitation, our integrated practice near Anniston will create a chiropractic and physical therapy plan that can help you to overcome injury or illness. Whether you have battled chronic pain for a long time or if you are recovering from a sports injury, we can craft a customized treatment plan to help you to strengthen your muscles, build on your joint strength, and improve your ability to move again.
Schedule a Consultation with Our Anniston Chiropractor to Get Started Today!
The first step is to call our Anniston clinic to schedule a consultation. The Anniston Chiropractic has the tools and professionals you need to get the results you desire. Call us today to receive a free consultation to discuss the specific treatment options available to you through physical rehab and therapy through chiropractic care. Contact us today for an appointment at (256) 237-9423.
Back Pain, Neck Pain, Pre and Post Surgical Rehab, Ankle, Knee, Hip, Neuropathy and many painful conditions respond favorably.