Greetings from the friendly staff at Wade & Associates Chiropractic!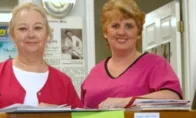 Our goal is to provide quick pain relief and rehabilitation for long term results
From the time you arrive, our goal is to exceed your expectations! You can download and fill out our forms to save you time on your first visit. Our office is both warm and friendly, busy but providing individual attention. Specialized Spine Decompression is offered at Wade & Associates.
Spinal decompression therapy has a high success rate for pain
associated with herniated or bulging discs...even after failed surgery. It is a non-surgical, traction based outcome for the relief of back and leg pain or neck and arm pain. During this procedure, by cycling through distraction and relaxation phases and by proper positioning, a spinal disc can be placed under negative pressure, causing a vacuum effect within it.
Anyone who has back pain or neck pain caused in whole or in part by a damaged disc may be helped by spinal decompression therapy. These conditions include herniated, protruding or bulging discs, spinal stenosis,sciatica or radiculopathy (pinched nerves).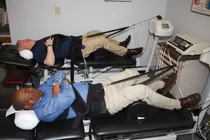 The spine decompression area offers decompression for the neck, wrist and low back. Wade & Associates also offers specialized traction for the wrist for Carpal Tunnel Syndrome
.